Destination: Bold Opportunity
We Want You to Be Part of the New Space Economy!
The Space Foundation, in partnership with MBDA (Minority Business Development Agency), invites entrepreneurs and business leaders to explore new and emerging business opportunities with the Space Community. Business development and educational workshops are being held nationwide.
2017 GLOBAL SPACE ACTIVITY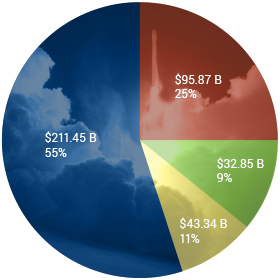 Commercial Space Products and Services


Commercial Infrastructure and Support Industries


Non-U.S. Government Space Budgets


U.S. Government Space Budgets
Total: $383.51 Billion
© Space Foundation
Fast Facts About The Global Space Economy
The space market grew 7% from 2016 to 2017.
Big growth areas are in product and service delivery (e.g., software, app development, data, etc.).
Commercial space sector accounted for 80% of the global space market.
SPACE COMMERCE BUSINESS GROWTH WORKSHOPS
The Space Foundation is hosting one-day training workshops nationwide to promote business growth into space-based technology markets. These workshops provide key insights to address the most common challenges companies face and assist with emerging opportunities in the enterprise of space commercialization. The sessions will help close the gap on the specific issues keeping you from growing and expanding your company, and they will deliver the tools necessary to set up your company for success.
Hosting Workshops Across The Nation
SPACE COMMERCE WEBINAR AND SPEAKER SERIES
An informative and engaging series of speaker events and webinars produced by the Space Foundation. We'll cover topics to include: Space in Our Lives, Growing Your Business, Access to Growth Capital, Mining for Customers, Managing in the Aerospace Industry, Space Commerce in the Future, and more!