Space Certification
Space Educational Products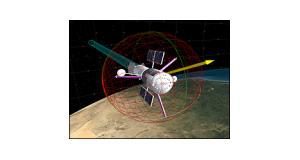 Systems Tool Kit – Education
AGI has granted the Space Foundation licenses to a suite of Systems Tool Kit (STK) products for educational use in the Space Foundation Discover Institute located in Colorado Springs, Colorado.
STK is a system modeling and mission analysis application and software development kit for space, defense and intelligence engineers and analysts. STK is used to model complex systems (aircraft, satellites, ground vehicles, etc.), along with their sensors and communications, in the context of the mission environment.
Mission environment areas of focus include high-fidelity spatial mechanics engine; software development, integration and deployment; detailed model and simulation creation; and customizable report and graph styles.
Students and educators at the Space Foundation Discovery Institute have access to a full range of STK applications – identical to those used by aerospace professionals around the world. Specific products include the following which cover land, sea, air and, of course, space!
STK products now in use at the Space Foundation Discovery Institute include the following.
STK Professional – High fidelity propagators, complex constraints plus 3D visualization
STK Integration – Multiple API's for customizing workflows and integrating with legacy applications
STK/Astrogator – Sophisticated orbit maneuver planning
STK/Attitude – Sequential user-defined attitude profiles
STK/Comm – Link budget and interference modeling
STK/Coverage – Regional constraint application and analysis
STK/Conjunction Analysis Tools – identify close-approach situations, including actual satellite collisions
STK/Radar – thorough analysis and graphic displays of radar systems
Orbit Determination Tool Kit (ODTK) – orbit determination and orbit analysis support for the entire life cycle of satellite tracking systems
STK/SEET – Space Environment and Effects Tool