Space Certification
Space Technology Products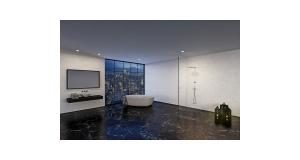 Mastering the water flow
Each shower unit is powered by its own shower pump making sure you always have full pressure through the shower.
Purification Capsules
Micro Capsule
The Shower of the Future's Micro Capsule purifies the recycled water and offers filtration capabilities with superior efficiency. All hair and sand particles are filtrated from the water, together with skin flakes and larger scraps.
Nano Capsule
The Nano Capsule, ensures that the level of purity is not only equal to, but above most conventional water taps. Purifying the water from all unwanted particles, such as viruses and bacteria, as well as 99.9% of potential endotoxins, metals and emulsified oils.
Precise Temperature
Never again will you experience any unwanted temperature changes thanks to the digitally controlled temperature regulation.