Space Certification
Space Imagination Products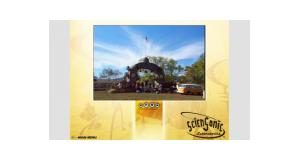 ScienSonic Laboratories wants to become YOUR source for creative and far-reaching musical experiences. Not just a record label, not just a  recording facility, ScienSonic Laboratories is a unique and valuable resource for YOU, the adventurous listener.  We seek to create a world of  musical art and science that you can enter, experience and enjoy.
You will discover sound-worlds not to be heard anywhere else: a trio of bass saxophones… vintage electronics played through rotating  speakers… bass marimba duets… a miniature symphony for contrabass  sax and 7-ft. banjo… a solo multi-instrumental performance based on  doctoral work in chaos theory… the giant bells of Space Farms… all beautifully packaged with astonishing vintage cover art by the amazing science fiction artist Richard Powers.
ScienSonic Laboratories strives for excellence in every area of its operations.  All music is recorded under union contract with the American  Federation of Musicians.  Our CDs are manufactured in the US, and come in handsome board packaging (no plastic cases), protected by reusable, resealable "poly bags" rather than wasteful shrink wrap. And in keeping with our expansive mission, a percentage of each album sold will be donated to the Space Foundation fund for the advancement of space exploration.
Laboratory Memberships are available at a variety of levels which allow you access to additional creative experiences in our cyber-labrooms including video, interviews, "sounds-of-the-month," behind-the-scene doings, exclusive products and publications, and unreleased audio not available elsewhere.
ScienSonic Laboratories brings the creative experience to YOU, the adventurous listener!