Space Certification
Space Imagination Products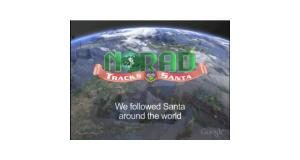 For over 60 years, NORAD and its predecessor, the Continental Air Defense Command (CONAD), have tracked Santa along his yuletide journey. It all began on Christmas Eve back in 1955 after a Colorado Sears Roebuck & Co. advertisement directed children to call Santa direct – only the number was misprinted. Instead of reaching Santa, the phone rang through to the CONAD Commander-in-Chief's operations "hotline" phone. After receiving a number of calls from kids asking where Santa was and realizing what had happened, the CONAD staff decided to update children with Santa's location according their radar screens all throughout the evening.
In 1958, Canada and the United States created a bi-national air defense command for the North American continent called the North American Aerospace Defense Command (NORAD), which inherited the annual task of tracking Santa. Media around the world call NORAD for updates on Santa's location and the website is visited by millions of people wanting to know of Santa's whereabouts.
Today, NORAD uses four high-tech systems to track Santa – radar, satellites, Santa Cams and fighter jet aircraft. Not only do these systems utilize a variety space technology, but the tradition of tracking Santa's progress itself inspires children around the world to think about how space technology and exploration play an increasingly important role in our daily lives. Three hundred and sixty-five days a year, NORAD Canadians and Americans work together to monitor our airspace and waterways for potential threats by conducting the NORAD missions of aerospace warning, aerospace control and maritime warning.
Detecting Santa all starts with the NORAD radar system called the North Warning System. This powerful radar system has 47 installations strung across the northern border of North America. NORAD makes a point of checking the radar closely for indications of Santa Claus leaving the North Pole on Christmas Eve.
The moment our radar tells us that Santa has lifted off, we use our second mode of detection, the same satellites that we use in providing warning of possible missile launches aimed at North America. These satellites are located in a geo-synchronous orbit (that's a cool phrase meaning that the satellite is always fixed over the same spot on the Earth) at 22,300 miles above the Earth. The satellites have infrared sensors, meaning they can detect heat. When a rocket or missile is launched, a tremendous amount of heat is produced – enough for the satellites to detect. Rudolph's nose gives off an infrared signature similar to a missile launch. The satellites can detect Rudolph's bright red nose with practically no problem. With so many years of experience, NORAD has become good at tracking aircraft entering North America, detecting worldwide missile launches and tracking the progress of Santa, thanks to Rudolph.
The third detection system is a set of high-speed digital Santa Cams pre-positioned around the world. NORAD only uses these cameras on Christmas Eve and instantly downloads the images of Santa and his Reindeer to the web site for everyone to enjoy.
The fourth detection system is composed of Canadian and American NORAD jet fighters equipped with Santa Cams. Canadian CF-18 fighter pilots flying out of Newfoundland intercept and welcome Santa to North America. While in the United States, American fighter pilots in F-15 and F-16 aircraft get the thrill of flying escort Santa and his famous Reindeer Dasher, Dancer, Prancer, Vixen, Comet, Cupid, Donner, Blitzen and Rudolph.
NORAD relies on many volunteers to help make Santa tracking possible. Hundreds of volunteers spend part of their Christmas Eve at the Santa Tracking Operations Center answering phones and emails to provide Santa updates to thousands of inquiring children worldwide.
Beginning December 1st, on your home computer and on your smart phone, you can join NORAD as they count down the days to Santa's launch from the North Pole.  Then on December 24th, you can tune in once again to join the experience of tracking Santa and his reindeer across the globe by logging onto www.noradsanta.org and for regular updates about the cool games and other fun activities that will be offered on the website, visit the NORAD Tracks Santa Facebook page at www.facebook.com/noradsanta.  You may also call for information at 1-877 HI NORAD or email [email protected].
Watch the recap video of Santa's most recent trip around the world and be sure to join us on December 24th to track this year's journey.