Space Certification
Space Technology Products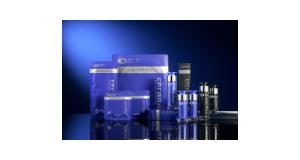 Epfora Skin Care Products
Aribio's new line of skin care products, marketed under the Epfora brand has been authorized to carry the Certified Space Technology™ seal.
Using the Space Technology Hall of Fame® inducted technology — Rotating Wall Bio-Reactor and modified Intrifuge CellXpansion – Aribio produce and harvests proprietary biomolecules and blends them with other cosmetic ingredients to produce Epfora skin care products.
In 2011, the Space Foundation designated Intrifuge CellXpansion technology as a Certified Space Technology, following the product's induction into the prestigious Space Technology Hall of Fame® early 2012.
About Aribio Inc.
Aribio is established in 2010 and has headquarters in Seoul, Korea. The company's vision is being development engines for new drugs and alternative approaches to help patients with unmet medical needs and its business areas are new drug development, stem cells for regenerative medicine, cosmetics, functional dietary ingredients and natural mineral water.
To learn more and to purchase these fine products, please visit Epfora's multi-lingual internet shopping mall web site below.
http://shop2.aribiomall.cafe24.com/products/Skin-Care/45/?page=2