Space Certification
Space Educational Products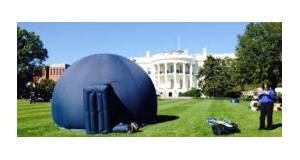 ePlanetarium® offers fully portable digital theaters with true HD (using all the width of 1920 and most of the height), with fulldome movies and zoom-in digital starfields. With support from NASA REASoN and a strong partnership with museums and universities, the excitement of museum-quality shows, presenting a wide range of educational topics, in a state-of-the-art mobile digital theater system, can be brought to you. The domes are fully flame retardant and handicapped-accessible, and users can come and go during a show. Also offered is the new portable inflatable domes, new high-resolution projectors, and educational and entertainment shows, in additional to bringing "on the road" programs to schools and special events.
ePlanetarium® features the Go-Dome™ from Avela, and carry the complete line of products. Unlike other inflatable domes, which are built mainly for analog projectors, the Go-Dome™ is designed and developed to meet today's digital technology. It's durable, lightweight for easy transport, with fewer wrinkles for movie playback. The 5-second dome flip gives a fast emergency exit in case of power outages.
The airlock design simulates space age technology — beginning an "out of this world" experience. The double-door, vestibule design creates a quick seal behind each admittance so that light, late arrivals or those who must leave unexpectedly do not disturb the show in progress. The dome door is now 7 feet tall in 5m or more domes, allowing easy "walk-in" entry with minimum air loss per admittance.