Space Certification
Space Technology Products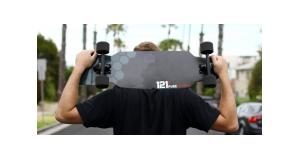 121C Carbon Fiber Skateboards and products
The Ultimate Carbon Fiber Skateboard—Made Entirely From Upcycled Carbon Fiber
The carbon fiber used in 121C boards is upcycled directly from the production lines of modern rockets.
Each board saves up to 5lbs of material from the landfill.
Made Entirely In the USA
All the components of our boards are made right here in the US
The Randal trucks are cast right here in southern California and both the Fireball wheels and the Sharkwheels are poured in Lake Elsnore. Even the bearings are manufactured in the US. The quality can truly be felt on every turn.
Incredibly Strong
At 121C we put our boards through the ultimate tests to ensure they're the best you can get. We run them over, launch them and drop them from the tops of buildings.